Testimonials
---
Facebook review 31st Oct 2020
Facebook review September 2020
Facebook review September 2020
Facebook review July 2020
Facebook review of Intro to Angels online course July 2020
Facebook review 01/07/2020
Facebook review 28/06/2020
Facebook review 07/06/2020
facebook review 07/06/2020
Facebook review 07/05/2020
Facebook review 05/05/2020
Facebook review 28/04/2020
Facebook review 9/4/2020
Facebook review 04/03/2020
Facebook review 02/03/2020
Facebook review 14/11/2019
Facebook review 28/10/2019
Facebook review 30/09/2019
Facebook review 15/09/2019
Facebook review 01/06/2019
Facebook review 10/05/2019
Facebook review 29th April 2019

Facebook review 15th April 2019

Facebook review 4th April 2019

Facebook review 31st March 2019

Facebook review 31st March 2019

Facebook review 18th March 2019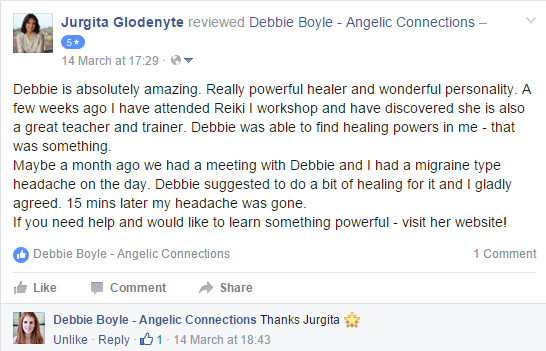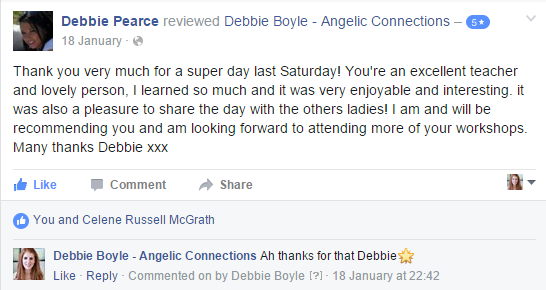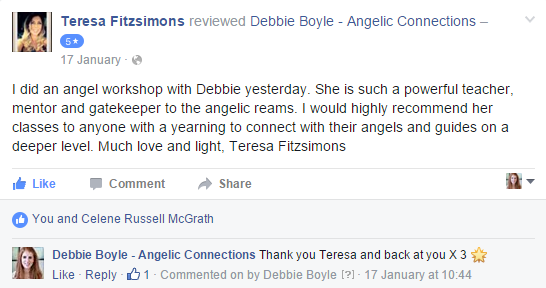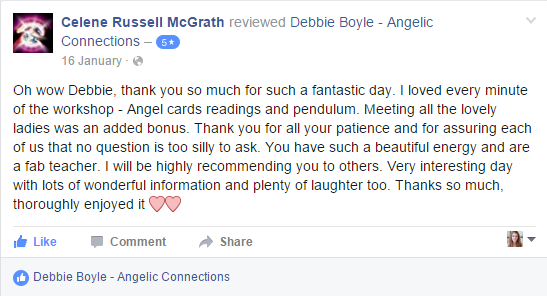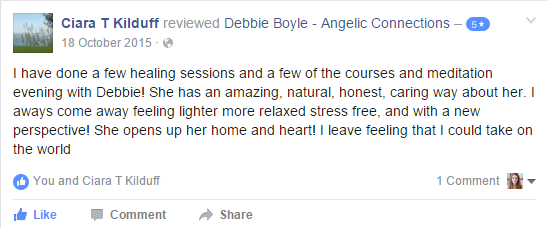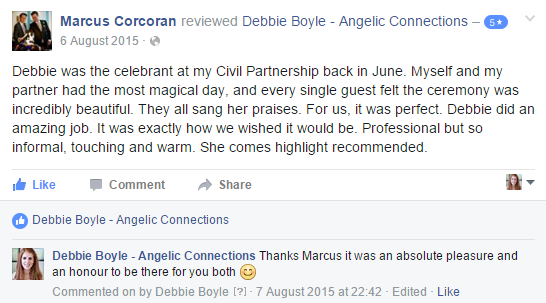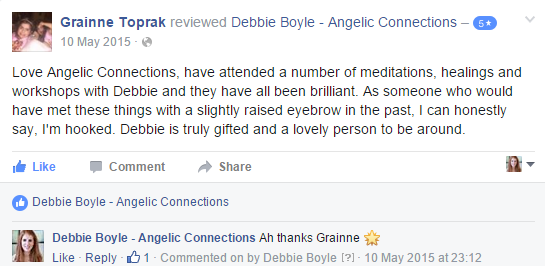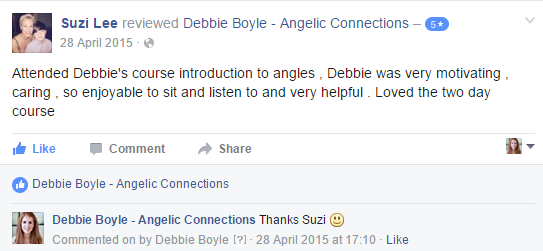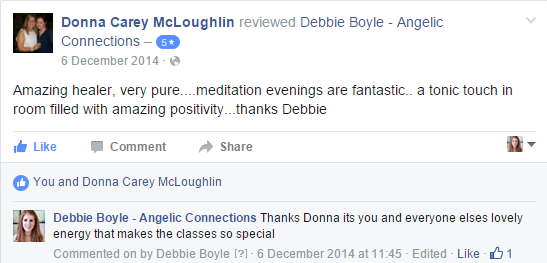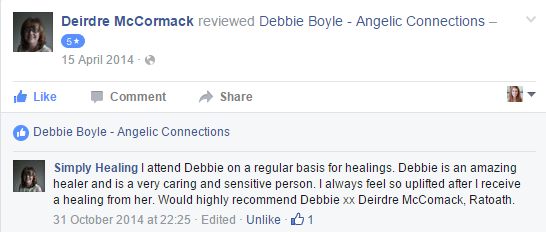 Gemma, Kildare
I already knew that Debbie was an amazing healer, very powerful and intuitive. I recently had the pleasure of attending a Reiki level 1 course with her and found her to have a lovely gently way of guiding you through, great for a novice like me. She was very reassuring and I left feeling empowered and looking forward to where it might lead. Thanks Deb, 5 stars !!!
M.F. Ratoath, Meath
Debbie is a very gentle, yet powerful healer whom I highly recommend. She is wise beyond her years and a fount of knowledge and invaluable,non-judgemental guidance. Before my first angelic healing session with her I was somewhat sceptical as I had only recently been introduced to angels and was still struggling with the concept of beings that radiated nothing but unconditional love. I had moved away from the organised religion which I had been brought up in and although I still believed in God, I wasn't too sure about anything else.
However, after one healing with Debbie I had changed my opinion. Debbie is so obviously connected to the angelic realm that it is impossible to deny the presence of angels when being healed by her. She radiates sincerity and I have no difficulty in believing in her genuine ability to communicate with them. She is an instinctive healer with a warm personality and an over-generous heart.
My health (both physical and mental) has benefitted greatly from my healing sessions with her. I have also attended several of her workshops, all of which I have enjoyed and which have really helped me on a spiritual and physical level. She is a natural teacher and imparts knowledge effortlessly. My journey with Debbie has brought me back to God as the Source of all creation and a firm believer in the many angels who assist me every day. I will always be grateful to you for that, Debbie. Thank you my friend!
Marie, Blanchardstown, Dublin 15
I have attended the Reiki Level 1 weekend course and angelic Connections course with Deborah.
Deborah is an excellent teacher. She is extremely knowledgeable in her field, imparting knowledge in a clear concise way. She is very affirming supportive and encouraging towards the class. Deborah creates a warm, friendly, relaxed atmosphere during the classes with an ease of conversation flowing when necessary. The meditations are gently guided by Deborah's soothing dulcet tones that enhance the meditative state. I found her meditation CD invaluable as it allowed me continue the practice during the weeks between classes and after. Deborah is a natural teacher and facilitates the class in such as way that I leave feeling invigorated, energies lifted ready to face life again.
I first met Deborah in March 2012 through a friend who recommended Deborah for a healing as I was at a difficult point in my life and feeling very low. Â Since then I have been on the most amazing journey of my life, throughout this journey Deborah has been by my side to support me. Â I am currently studying with Deborah and developing my own skills and gifts as a healer. Â Deborah is a powerful and beautiful earth angel, she is professional, inspirational and has a major impact on my life by teaching me the skills to take control of my life and connect with my own guardian angels to guide me along my path and for this I am very grateful. Â As a teacher or facilitator Deborah offers guidance, support and encouragement. Â She is inspirational, very knowledgeable and offers complete confidentiality.
As a result of my learning with Deborah I am much more confident and connected to my life's path and I have an increased network of like minded friends to share experiences with and to get advice and support from.    So far on my journey I have received healings from Deborah, I have completed my Reiki 1 and Reiki 2 courses successfully and am currently on the angelic connections meditation course which is absolutely fantastic.  I plan on attending many more of Deborah's courses which she will be running in the future. Finally I would just like to say that I would highly recommend Deborah for a healing or as a teacher if you intend on studying any of her courses. She is an amazing person and gives 100%  support to all of her students.
Bridie, Clonee, Dublin 15
A.H. Naas, Kildare
I attended with Deborah who helped me release many of my inner stresses and taught me invaluable techniques to self realization and growth. Her teachings and healings are carried out in a relaxed, professional and friendly environment and I actively look forward to each session knowing that after it I feel recharged and positively energized. From a initial position of ignorance and scepticism I have embraced the techniques and healings that Deborah practices and would strongly recommend others to embrace this life changing therapy.
Rosemary, Trim, Meath
I have had a number of angelic healing sessions with Debbie and have found her to be a very intuitive and empathetic healer. As a healer myself, I regularly book healing sessions with Debbie when I feel that I need to re-charge or re-balance my energies.I feel very relaxed and supported as soon as I step into Debbie's healing room. Once the healing session begins, I feel a great sense of calm come over me and I feel that Debbie knows instinctively where to channel the healing energies. When I walk out of a healing session with Debbie, I always feel a little lighter and as if my world is a better place. Debbie is a natural healer who always offers support and feedback in a kind and loving manner and I feel that the healings I have had with Debbie have had a positive effect on my outlook.
Paddy, Ashtown, Dublin 15
In march 2012 I started attending Debs classes. At the time I found it very difficult to switch off after work. I had a demanding professional life and a hectic social life. To say that I was burning the candle on both ends would be an understatement. I guess that I felt the urge to learn meditation techniques. I am now 12 months attending Debs classes, she has helped me to achieve everything I set out to and so much more. Through her informative and interactive workshops I have learned to bring complete balance to my life. Debs has taught me invaluable life lessons, she has opened my eyes to what life is really all about. I cannot recommend Debs and Angelic Connections enough. She is a tremendously powerful healer, an inspirational teacher, a beacon of light, an earth angel.
Thank you Debs.
Colleen, Naas, Co. Kildare
Deborah is a wonderful soul, with an amazing ability to help others on their path of spiritual growth. Whether its a class/course you'd like to take part in, or for personal healing, Deb is the woman for you.
Holistic therapy can be daunting if your only starting out, but with gentle ways and a wise mind Deb will take you by the hand and lead you to your own inner sanctuary. What could be better than to learn the tools to help you escape from life's demanding ways.
I personally have found Deb's natural ability to teach, be it Reiki or simply meditation, a wonderful power tool I'll keep developing for life. I'd like to take this opportunity to thank you Miss Deborah Boyle for being a fabulous friend and such a wonderful spirit.