Introduction to Angel Cards & Using the Pendulum
---
Venue :
Heart Wings Holistic School, Lucan, Dublin
Cost :
140 Euro (Does not include angel cards or pendulum, reduced rate for members of online community)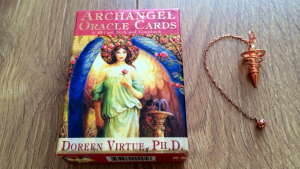 This one day workshop is a fantastic way for you to learn how to decipher the loving messages and guidance of the angels. You will receive a pendulum during this course but not angel cards, however Deborah will have cards available to practice with. On this course we cover :
On this course we cover :
Meditations to prepare you to do an angel card reading
Why use Angel Cards
How to clear the angel card deck and center yourself before a reading
How to interpret the guidance you receive.
Deciphering the symbolic meaning of the cards.
Doing a reading for yourself.
Doing a reading for someone else.
When not to do an angel card reading or work with the pendulum.
About the pendulum.
Working with the angels and the pendulum.
Why you should use a pendulum.
How to use a pendulum.
Clearing energy with a pendulum.
Using a pendulum to locate lost or missing items.
You will also receive a manual.  A booking deposit of 100 Euro deposit secures a place.  There is a reduced rate for members of Debbie's online community so please check in with Debbie if you are subscribed to her weekly classes as you are entitled to a reduction in price.
N.B. It is the right and discretion of Deborah Boyle to interview a potential participant.
For further details or to make a booking, you can contact Deborah on: +353 86 394 9117 or debbie@angelicconnections.ie